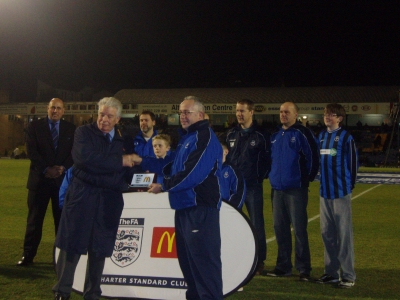 Current Charter Standard Clubs
All Club / Child Welfare Officers must have completed the FA CRB process by May 1st 2006 – All Club members with direct access to children must have completed the CRB Process by August 1st 2006.
Any clubs who have not completed the above will have their FA Charter Standard Status suspended until the process is complete. This will mean that any benefits of FA Charter Standard will be withdrawn.
From January 2006 the JTM (Junior Team Managers Award) will not be recognised for any club renewing its Charter Standard
New / Potential Charter Standard Clubs
From August 06 any new Charter Standard Club must have the Club/Child Welfare Officers FA CRB submitted before CSC award – From Jan 2007 any new club must have submitted FA CRB forms on all volunteers with unsupervised access to young people – From August 2007 the Junior Team Manager Award will not be recognised for any new clubs applying to be a Charter Standard Club